RIP Stephen Gately [1976-2009]
Posted by : Ruby Escalona
Tuesday, October 13, 2009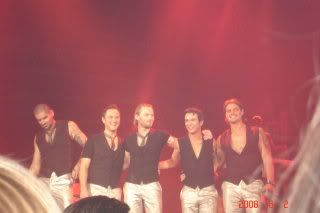 Not a book nor a travel related post. This is something more personal and maybe, music related.
I just need an outlet to post my thoughts and feelings about this issue so bear with me.


I got a text from one of my closest friends last Sunday, saying that Stephen Gately of Boyzone just died.

At first I was doubtful that this was true. Boyzone's manager was undeniably the greatest tabloid story maker of all time, going to lengths of exaggerating stories about the artists he manages.

But this time, the stories were true. He did indeed die tragically whilst on holiday in Majorca, Spain. Cause of death was still unknown.

So why am I moved by this death? Well, to be honest, Boyzone was a HUGE part of my life. I was around 12 when I found their music out, and was always listening to them whilst I was dealing with my father's illness, and eventual passing. I grew up with them, their songs always make my heart skip a bit, and since I was quite young when the boyz went to Manila and dealing with a loss of a loved one in 1998, I never got to see them live.

My mom tried her best to make up for lost time of me not being able to watch my favourite band on earth. One day, when I found out Stephen Gately was going to Manila for a promotional tour at the Hard Rock Cafe, my mom helped me secure tickets and even drove me and my best friend to the concert.

That was the first time I've ever seen Stephen Gately personally.

I want to upload the photos but I've got to find the hardcopies and the negatives first. In that day and age, there were only analog cameras. I was granted access to a press conference [God knows how I got in], and also front row seats in the performance. *sigh* Those were the days.
Stephen used to be my favourite member in Boyzone when I was younger until he was eventually overshadowed by Ronan Keating.

10 years on, in 2008, I was lucky enough to be sent on a business trip to London.

A few days before June 1, 2008, I was surfing the internet to look for concerts in London while I was around. Lo and behold, Boyzone were performing in Wembley Arena on June 1, 2008 as part of their comeback tour. [Another travel-related blog post will be uploaded within the next few weeks/days about my trip to Wembley]

I was a bit apprehensive at first since I've no one to go with but hey, I don't care if I'm alone. I've got the ultimate sign: I've got 6th row front centre block tickets during my last minute booking. See photo above on how close I was :D

I was shocked. I immediately booked it and well.... I got to see them live on June 1st, just a few hours after landing in London.

That's how big a fan I was.

High school friends, officemates, and other friends all left me messages about Stephen Gately's passing.

And I was deeply moved that they immediately thought of me after [well, being one of their biggest fans in the third world from grade school until now, who wouldn't forget me?]

It just goes to show how life is so short. :( There were so many people tragically dying in 2009. You don't really know when you're going to go.

So while the fate of the band is still in limbo, and whilst the rest of the boyz are still coping, we still have to move on right now.

*sigh*


RIP Steo, you will be missed.