Hong Kong 2009 -- Day 1, July 8th 2009
Posted by : Ruby Escalona
Thursday, July 9, 2009
Only had two hours of sleep this day since I had to wake up at 4AM to get to the airport before 6AM [ugh. traffic issues in Southern Metro Manila -- all this construction work in the so-called highways is enough to drive a person crazy in traffic, good thing for books and their handy-dandiness].

Arrived at the airport around 515AM [yes, that early] -- went to the Cebu Pacific check-in counter, then paid the P1620 travel tax, got my boarding pass & paid another P750 in airport taxes. So much taxes here in the PH! The taxes almost amount to the plane ticket I paid, which I booked during the Cebu Pacific promo.

Surprisingly, the 8AM flight from Manila to HK took off earlier than expected. We arrived in HKIA at 9:35AM. Lucky lucky =) We then hurried off to the bus that would take us to the Evergreen hotel.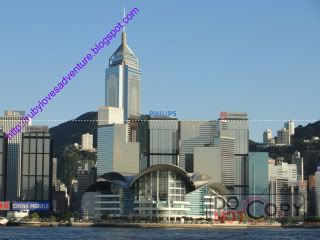 *Central area. Shot from the TST Waterfront*

Arrived at the hotel around 11:30, but since check-in time is 2:00pm, we walked around the area to familiarize ourselves: we looked for the MTR and looked for a place to eat. We ended up at McDonalds. We were not in the mood to actually look for a Chinese food stall so we settled for one we know and are familiar with.

Headed on off to Mong Kok -- where I was looking for a camera to get. I finally settled in Wing Sing, and I now have my new baby =)

We then went to Tin Hau temple after for a bit of sight-seeing and photos =)

Then back to the hotel to check-in and rest.

In the afternoon, we walked to TST [oh yes, no MTRs since we wanted to explore the place] and headed off to the HK Science Museum -- the entrance is free on Wednesdays and who wouldn't say no to freebies, right?

After that, we took a long walk down Avenue of the Stars -- most of the stars there are virtually unknown to me except for Bruce Lee & Jackie Chan.

Dinner at Food Paradise in Sogo.

Went out at 715pm at the TST Waterfront to get a good area at the second floor viewing deck for the Symphony of Lights. It was a long wait but the Symphony of Lights was very good. I was amazed at how the lights on the buildings were choreographed with the music.

Then off to Harbour City in the evening for a bit of window shopping before calling it a night.




Some tips for your trip:
- Do come at least 30 minutes before the Symphony of Lights show so you could get a good seat. When we came down at 8:15, there were a number of people crowding around the lower decks.
- Do bring bottled water along with you at all times. If possible, buy your water at Wellcome or at a grocery because prices in the vendo machines or at 7-11 are exorbitant! But if there's no Wellcome stores near your area, then 7-11 would do just fine. You need to drink & rehydrate, especially if you're travelling in the summer time.
- Bring an umbrella with you at all times -- HK weather in July is weird -- sometimes it rains, sometimes it's scorching hot!
- Do research on the specifications of the electronics first before you get anything in HK. And as per PEX, don't buy anything from the stores in Nathan Road. I myself bought my camera from a trusted electronic store in HK, Wing Sing. Make sure you get a warranty & try to haggle for freebies or a discount =)

Have fun, enjoy! If you have further questions on itinerary or what I did for this day, feel free to comment :) Will post on the rest of my other days in HK in subsequent posts.




* Book/Telly Stats *
Books read on day 1st holiday: None. Only brought one book with me in the trip, "My Take" by Gary Barlow, which I only got to read a few pages of whilst in the airport. I was pretty much asleep nearly the whole flight to HK.