Featured Post
Hello All, Just a quick note to say that I haven't been blogging here for a while because Peter and I decided to get our own doma...

Quick Links
Popular Posts
Blog Archive

Archive for August 2009
This is my first giveaway ever, and I'm so excited about the prize. :)
The lovely Michelle Moran has been kind enough to offer an
autographed
, hardbound copy of Cleopatra's Daughter, coming out in the US in August 15th, 2009.
Synopsis from her website:
The marriage of Marc Antony and Cleopatra is one of the greatest love stories of all time, a tale of unbridled passion with earth-shaking political consequences. Feared and hunted by the powers in Rome, the lovers choose to die by their own hands as the triumphant armies of Antony's vengeful rival, Octavian, sweep into Egypt. Their three orphaned children are taken in chains to Rome, but only two—the ten-year-old twins Selene and Alexander—survive the journey. Delivered to the household of Octavian's sister, the siblings cling to each other and to the hope that they will return one day to their rightful place on the throne of Egypt. As they come of age, they are buffeted by the personal ambitions of Octavian's family and court, by the ever-present threat of slave rebellion, and by the longings and desires deep within their own hearts.
The fateful tale of Selene and Alexander is brought brilliantly to life in Cleopatra's Daughter. Recounted in Selene's youthful and engaging voice, it introduces a compelling cast of historical characters:
Octavia: the emperor Octavian's kind and compassionate sister, abandoned by Marc Antony for Cleopatra
Livia: Octavian's bitter and jealous wife
Marcellus: Octavian's handsome, flirtatious nephew and heir-apparent
Tiberius: Livia's sardonic son and Marcellus's great rival for power
Juba: Octavian's ever-watchful aide, whose honored position at court has far-reaching effects on the lives of the young Egyptian royals
Selene's narrative is animated by the concerns of a young girl in any time and place —the possibility of finding love, the pull of friendship and family, and the pursuit of her unique interests and talents. While coping with the loss of both her family and her ancestral kingdom, Selene must find a path around the dangers of a foreign land. Her accounts of life in Rome are filled with historical details that vividly capture both the glories and horrors of the time. She dines with the empire's most illustrious poets and politicians, witnesses the creation of the Pantheon, and navigates the colorful, crowded marketplaces of the city where Roman-style justice is meted out with merciless authority.
Based on meticulous research, Cleopatra's Daughter is a fascinating portrait of Imperial Rome and of the people and events of this glorious and tumultuous period in human history. Emerging from the shadows of history, Selene, a young woman of irresistible charm and preternatural intelligence, will capture your heart.

Contest Details
- open to international readers.
- book will be shipped by author Michelle Moran from the US to the winner :)
- contest will end on September 14th, 2009, 10AM Eastern Standard Time
- winner will be announced on September 15th, to coincide with the book's release in the US
- entries will be assigned a random number and I'll use a random number generator to pick the winner
To enter:
+1 entry if you leave a comment in this post with your email address in it.
+1 entry if you become a follower of my blog
+1 entry if you were a previous follower of my blog
+2 entries if you post this giveaway on your blog.
Good luck everyone! :)
I'll be posting out book giveaways here so look out :)
Fellow bibliovore Blooey is giving away a hardbound copy of Harry Potter & the Deathly Hallows. Check it out
here
All Things Royal is giving away a book from Hever castle
here
Good luck everyone!
SM North, The Block. 5pm.
The Saturdays performed 7 songs as part of their Asian tour. This was a free concert and since I looove going to concerts & I also love UK bands, I decided to go for it.
The setlist is:
1. If This Is Love
2. Keep Her
3. I Just Cant Get Enough
4. Chasing Lights
5. Issues
6. Work
7. Up
Photos: [Pls dont mind the line that is separating the photo in two, its just that the batch watermark creator I'm using is not registered yet]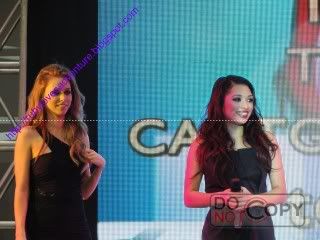 Una & her guitar while preparing for Chasing Lights